Lineární čárové kódy
Uvádíme výčet nejpoužívanějších lineárních kódů:
EAN (European Article Number)

Nejčastější EAN kód a pravděpodobně nejčastější čárový kód vůbec je EAN-13, který byl definován standardizační organizací GS1 Czech Republic.
Kódy EAN-13 jsou používány po celém světě k označování jednotlivých druhů zboží. Z kódu EAN-13 lze například identifikovat zemi původu výrobce nebo způsob užití daného zboží. Méně jsou používány kódy EAN-8, které jsou vyhrazeny a používány pro menší položky, na které je problém umístit 13místný kód, jako jsou třeba cukrovinky.
EAN2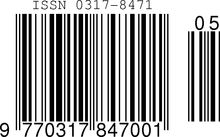 Je dodatečný kód ke kódu EAN - slouží zejména v označování publikací pro identifikaci čísla vydání.
EAN5
Je dodatečný kód ke kódu EAN - slouží hlavně v knižním průmyslu pro definici ceny zboží.
CODABAR

Je znám také jako Codeabar, Ames Code, NW-7, Monarch, Code 2 of 7, Rationalized Codabar, ANSI/AIM BC3-1995 nebo USD-4. Je navržen, aby šel snadno číst při vytištění na jehličkových tiskárnách. Dá se zároveň tisknout i postupně na strojích bez nutnosti počítačové logiky. Po vytištění jedné části znaku/číslice se tiskárna přesune k tisku další části kódu. V současné době bývá nahrazován novějšími symbologiemi, které zabírají méně místa.
Code 128

Code 128 je jednorozměrným kódem, název napovídá, že je schopný zakódovat 128 znaků (spodní polovinu ASCII) - jako jeden z mála u znaků umí rozlišovat a zachovat velikost písmen v kódu. Má tři znakové sady (A, B a C), která se jedním ze speciálních znaků na začátku kódu nastaví a mezi nimiž je možno v průběhu kódu přepínat. Každý znak Code 128 se skládá ze tří čar a tří mezer definované šíře, která je 1 až čtyřnásobek atomární šířky (X). Kód každého znaku má délku 11 X, s výjimkou posledního znaku (stop bits), který je dlouhý 13 X. Předposlední znak je kontrolní součet daný součtem násobků jednotlivých kódů (nikoli ASCII ale počítáno od 0) vynásobených jejich pozicí, to celé modulo 103. To snižuje pravděpodobnost výskytu chyby na 1 : 5 000 000. Pokud má Code 128 nést ryze číselný kód, většinou nastaví znakovou sadu C a číslo zakóduje po dvojicích číslic, čímž může být úspornější než některé jiné čárové kódy, které umí kódovat pouze číslice. Code 128 se používá v logistice nebo například k identifikaci patentů.
Code 39
Kód je variantou Code 128, lze do něj zakódovat 43 znaků (A-Z jen velká písmena, číslice znaky , -, ., $, /, +, %, a mezeru. Znak * v kódu slouží jako oddělovač. Narozdíl od Code 128 nepodporuje Code 39 kontrolní součet. Oproti Code 128 je také výraně delší. Jeho výhodou je, že se dá tisknout pomocí speciálních fontů.
GS1-128

Dříve označovaný také jako UCC/EAN-128 je standardizovaným kódem GS1 založeným na kódu Code128. Umožňuje uložení více informací (např. kódu zboží a seriového čísla) do jednoho kódu pomocí oddělení čísel tzv. aplikačními identifikátory (v tištěném textu čísla v závorkách), které definují co za hodnotu bude následovat v další části kódu.
GS1-Databar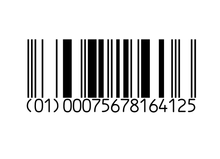 Je využíván zejména v obchodu k vysledovatelnosti zboží. Jeho definice obsahuje několik podskupin kódů, např. pro vícesměrové čtení. Stejně jako GS1-128 obsahuje podporu aplikačních identifikátorů.
PHARMACODE

Je používán ve farmaceutickém průmyslu pro označování balení léků k identifikace výrobce balení. Firma, která balí léky nemusí být shodná s jejich výrobcem. Kód je odolný proti chybám čtení a lze jej tisknout i v barevných kombinacích, navíc je malý a tak zabírá minimum místa i na malém balení.