NFC – mobil místo penĕz
V létĕ 2016 probĕhla českými médii kratičká zpráva, které si málokdo všiml. Československá obchodní banka rozšířila možnosti placení o telefony vybavené čipem NFC.
NFC je zkratka pro Near Field Communication. Je to bezdrátová technologie, která se na první pohled nijak neliší od RFID tagů frekvence 13.56 MHz, kterými jsou vybaveny všechny dnešní bezdotykové platební karty. Má stejnou anténu, stejný čtecí dosah 10-20 cm a funguje se stejným platebním terminálem - pokud se v něm příslušně upraví firmware. Toho ČSOB využila, takže všechny její platební terminály mohou přijímat platby jak z běžných bezkontaktních platebních karet, tak z telefonů vybavených tagem NFC.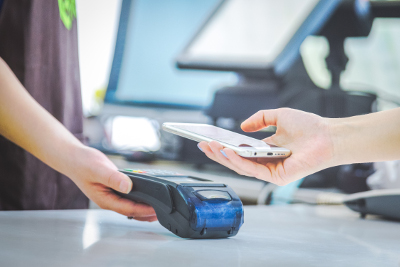 Zásadní rozdíl mezi RFID tagem 13.56 MHz a tagem NFC hledejte v tom maličkém uprostřed. Vypadá to jako zrnko máku. Říká se mu čip. Všechno ostatní, co vidíte, je jenom anténa. No, slovo "jenom" bych asi neměl používat, protože čip by bez ní nemohl fungovat. Neměl by energii na to, aby se probudil a už vůbec by neměl sílu k tomu, aby výsledek své činnosti odeslal do prostoru.
Zjednodušeně řečeno, čip NFC se liší od čipu RFID asi tak, jak se od sebe liší počítač s operačním systémem MS-DOS od počítače s 64-bitovým operačním systémem Linux. Oba jsou to počítače, oba mají klávesnici, obrazovku, pevný disk a procesor. Ale stejně jako 64-bitový Linux poskytuje počítači mnohem více možností, než architektura MS-DOS, je zásadní rozdíl mezi příkazovou sadou čipu NFC a sadou instrukcí čipu RFID. Protokol NFC například umožňuje oboustrannou komunikaci. A v tom je to hlavní kouzlo. Každý tag NFC se totiž může chovat zároveň jako čtečka, pokud je potřeba. Tím došlo k prolomení fyzikální bariéry tagu RFID, který neměl dostatečnou energii potřebnou k využití pokročilých šifrovacích mechanismů během datové komunikace.
V blízké budoucnosti již nebudete mít peněženku plnou platebních a slevových karet, OpenCardů, Lítaček, klíčenek do práce, přihlašovacích karet k počítači a podobných věcí. Namísto toho budete mít jeden chytrý telefon s jedním tagem NFC a jednou aplikací, která jej přiměje chovat se jako cokoliv z výše uvedeného.