Využití snímače čárových kódů připevněného na ruce
Při prohlížení naší nabídky v internetovém obchodě vás možná napadne, k čemu vlastně je dobrá čtečka čárových kódů, nebo 2D a QR kódů, připevněná na prsty. Není to moc drahé? Jak to efektivně využít?
Hlavní výhoda takového snímače čárových kódů spočívá v tom, že i při skenování zůstanou obě ruce volné. Dělník kompletující u pohyblivého pásu nějaký výrobek z přijíždějících součástek určitě ocení, že nemusí neustále brát do ruky a znovu odkládat ruční snímač čárových kódů, ale že jej má neustále na ruce. Dozajista pak dokáže plnit podstatně vyšší normy, a to i při dodržení požadavku, že každý jednotlivý díl použitý pro kompletování musí být odepsaný z podnikového systému. Načtené kódy mohou vstupovat do ERP z mnoha snímačů na rukách dělníků najednou, ze vzdálenosti až 100 metrů od jediného bezdrátového přístupového bodu, který už je přímo připojený do systému.
Při skladových operacích dnes skladníci při vychystávání zakázek s oblibou používají přenosné terminály s vestavěnou čtečkou čárových kódů. I tak ale musí nejdříve vzít terminál do ruky, nasnímat kódy, přístroj odložit, a až poté vybírat zboží z regálů a dávat je do přepravky. Co kdyby však měl skladník přenosný terminál připevněný na předloktí jedné ruky a čárové kódy na produktech snímal rovnou při jeho přemisťování, tak jak to umožňuje snímač Honeywell 75E nebo sestava RS31-2006? Co myslíte?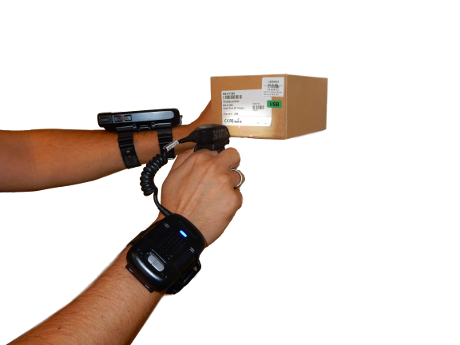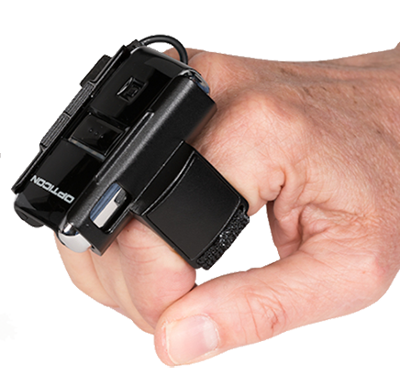 Stejný komplet se dá s výhodou použít při kontrole cenovek v supermarketu, při provádění inventury, při sběru statistických údajů, a v mnoha jiných aplikacích, při kterých potřebuje obsluha kromě snímání čárových kódů také odškrtávat položky ve vytištěném seznamu nebo si dělat průběžné poznámky.