Datalogic Mobile Computer Memor 10, WLAN, LTE, GMS, 2D, Android, black
The Memor 10 PDA brings the power and performance of a smartphone with the user-friendly experience of Android in a slim and compact design, combined with high performance 1D/2D bar code scanning and industrial robustness for almost any indoor or outdoor environment. It also incorporates Datalogic's industry-first wireless charging system for ultra-reliable contactless charging, paired with a 1-piece swappable battery for the best operating advantage.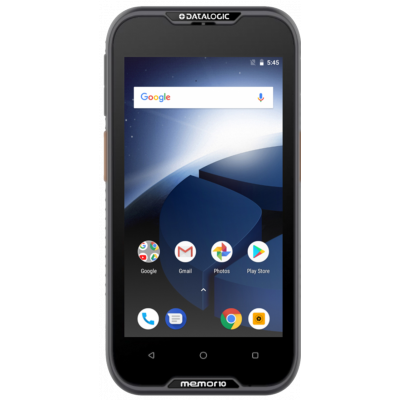 Datalogic Mobile Computer Memor 10, WLAN, LTE, GMS, 2D, Android, black

ARTICLE No.:
DAT-MEM-944350001
Availability:
Usually 15 days
Warranty (months): 12
22 828,-
exclude VAT
27 621,9 incl. VAT
Weight:
0.3kg
The Memor 10 is powered by a superior octa-core platform clocked at 2 GHz
for top performance with the most demanding applications, and features Android 8.1 (Oreo) with Google Mobile Services (GMS). Moreover, the Memor 10 is one of the first rugged mobile computers to be validated by Google for the 'Android Enterprise Recommended' program for rugged devices. The Memor 10 leverages a complete set of embedded wireless technologies for both indoor and outdoor applications: dual band Wi-Fi including the latest 802.11ac standard, Bluetooth® v4.2 with BLE for fast and ultra-low power connections, NFC for easy pairing, and particularly the cellular area voice and data connectivity, already leveraging the next generation of LTEAdvanced/ 4G+.
Ultra-Ergonomic, compact and robust

5 inch capacitive multi-touch HD display with Dragontrail™ hardened glass

Wireless charging eliminates all contacts on the device and cradle

Advanced 2D ultra-slim imager with Datalogic's patented 'Green Spot' technology for visual good-read feedback

Datalogic's SoftSpot™ technology for innovative triggering through the touch display