CipherLab CP55 Industrial Mobile Computer, Laser, CE7.0, WLAN, GPS, 3G, QVGA, numeric keys
Mobile computer suitable for demanding industrial applications with powerful dual-core processor, characterized by low weight, small size, 5 megapixel camera and AGPS navigation. It can optionally be equipped with an RFID reader. CipherLab CP55 is a Windows Embedded Handheld PDA built to fulfill the demands of transportation, logistics and warehousing applications. Coupled with barcode readers or RFID (HF) sensor, CP55 provides versatile data capture options. Further, this rugged PDA meets 1.5m drop and IP65 specification that survives well in harsh environment.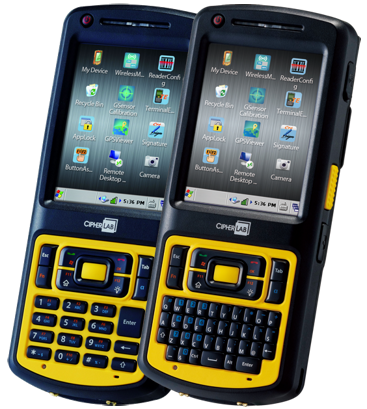 CipherLab CP55 Industrial Mobile Computer, Laser, CE7.0, WLAN, GPS, 3G, QVGA, numeric keys

ARTICLE No.:
CP55-L-C3GN
Availability:
Product discontinued - can not be ordered
Warranty (months): 12
Product discontinued - can not be ordered
Package content:
CD-ROM, Power supply, Device itself, Printed Quick Guide, Screen protector, Interface and power USB cable
Weight:
1.2kg
The CipherLab CP55 is specifically constructed for the businesses with demanding applications in the transportation & logistics, manufacturing and warehousing industry and field service. The CP55 successfully extends CipherLab' s product portfolio with its unique features of high performance paired with ruggedness. Equipped with practical features and value-added software, the CP55 offers an intelligent choice for complex applications.
Its on-board 4 GB memory allows workers to continue their jobs even outside of wireless network coverage, yet offers reliable data transmission once within range via multiple wireless communication options. With incorporated GPS, the CP55 series gives you the ability to handle direct store delivery (DSD), asset management, and vehicle tracking with ease. Moreover, the choices of a 5-megapixel camera and RFID give you flexible and versatile data capture at your fingertips. Along with CipherLab's free software tools, more applications can be handled with faster and easier customization than ever before.
The CP55 enables better management of your mobile workforce. Its flexible wireless communication options keep your field workers connected at all times. 3.8G HSPA+ with AGPS option allows location-based applications with real time navigation, such as direct store delivery (DSD), asset management and vehicle tracking. Bluetooth®, 802.11 a/b/g/n, and 3.8G HSPA+ connectivity let workers communicate with peripherals, to save time and simplify operation while on the job. It provides seamless data transfer as well, keeping systems updated in real-time for the most informed management decisions. Laser and 2D options ensure accurate data capture, enabling workers to complete assigned tasks more quickly and efficiently. With optional RFID, the CipherLab CP55 is ready to assist your business in keeping up with the dynamic demands in transportation, logistics, and warehousing applications. The device comes with numeric and QWERTY keypad options for data input and editing when situations call for it. Optional handle allows workers to scan over longer periods of time with comfort and thus increases labor output.
Highlighted features of the Industrial Mobile Computer CipherLab CP55
4 GB onboard memory

all kinds of wireless communication: WiFi, Bluetooth, GSM/HSPA, GPS

5 megapixel camera

user friendly SPB SmartShell preinstalled

bar code scanner at your will: 1D laser,linear imager,long laser or 2D imager

optional KALIPSO Mobile Application Generator for easy and quick customization

optional SOTI MobiControl for improved device management in the field

ergonomic handle available
Promotional video: VIDEO='DMS:2787