CipherLab CPT-8001C Portable Batch Terminal, 1D CCD, 2 MB, without Cradle
The 8000 series Portable Data Terminal is the smallest and the most price efficient one, even with the high performance designed for all-day, everyday use. CPT-8000 is powered by two AAA size batteries, CPT-8001 uses the standard Li-ION rechargeable accumulator (Nokia), and is equipped with recharging cradle. As all portable terminals from CipherLab, it is supported by a rich set of development tools, including a Windows-based application generator, "C" and "Basic" compilers. With its integrated barcode scanning unit, the 8000 Portable Data Terminal is ideal for applications such as inventory control, access control and shop floor management, etc.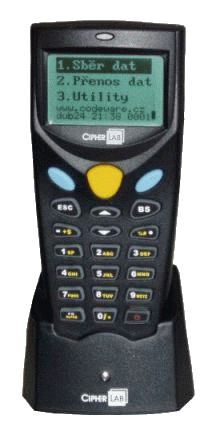 CipherLab CPT-8001C Portable Batch Terminal, 1D CCD, 2 MB, without Cradle

ARTICLE No.:
A8001-C-02M
Availability:
Usually 23 days
Warranty (months): 12
310,1
exclude VAT
375,2 incl. VAT
Package content:
Terminal, CD-ROM, Battery, Hand strap
Weight:
0.2kg
Each set standardly comes with the communication cradle and with the Application generator AG-8000, which is always available to download online.
Brief list of software applications and tools for the CipherLab CPT-8000 and CPT-8001 terminals:
CiherLab Forge Suite with Aplication Generator, a basic set that comes with the terminal. In the package you will find a programming tool, runtime modules, user guides, communication tools and international character fonts for the device.

CPT Communication DLL , a dynamic library for developers. They can use it to enable bi-directional data transfer directly from their application.

CipherLab Blaze Suite, the advanced programming tool. There are two variants of BLAZE suite - the first one contains CipherLab-Basic compiler, whilst the second one is with CipherLab-C compiler. CipherLab's Basic compiler is Windows based one with IDE environment, and a limited trial version is available for download. CipherLab-C uses the ANSI-C syntax and the MS-DOS environment.

Mobile terminal CPT-8001 is available also in special design for health institutions, pharmacies, and similar social institutes. The housing is cast from a mixture of antibacterial solution developed for this purpose by

Microban

corporation.

With its size and price the unit is comparable with a mobile phone - even though it has the same performance as the model CPT-711.
Referential customers (hundred and more units in use):