Handheld
Handheld barcode readers, 2D and QR codes are designed for all situation where data is to be transmitted to a computer by cable or wireless (for example, Bluetooth). In pocket memory scanners, data are first collected and stored in memory, and then transferred to the computer.
Discontinued
---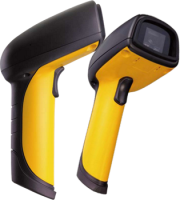 CipherLab 1704 Rugged 2D Code Scanner
The CipherLab 1704 rugged corded scanner is designed to meet the scanning challenges in industrial working environments, such as manufacturing, warehousing, and logistics. It is built to withstand bumps or drops, and also to resist water or dust. You can always count on it to deliver reliable scanning performances and long lasting values - getting the job done with incredible productivity!