Homepage

Alien ALR-H450 Mobile RFID reader, Android, 2D, RFID, Wi-Fi, WVGA, WM, GPS, 3G, pistole, UHF 865-868 MHz
The Alien Technology® commercial class ALR-H450 "connected" Android handheld readers enables users to deploy manageable, robust, best-in-class EPC Gen 2 RFID solutions for supply chain, manufacturing, and asset management applications. Used demonstration piece, fully functional.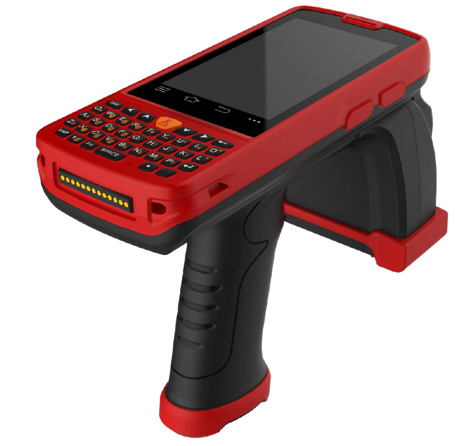 Alien ALR-H450 Mobile RFID reader, Android, 2D, RFID, Wi-Fi, WVGA, WM, GPS, 3G, pistole, UHF 865-868 MHz

ARTICLE No.:
ALR-H450-EMA
Availability:
1 pcs
Warranty (months): 12
37 601,-
exclude VAT
45 497,2 incl. VAT
Package content:
Terminal, Battery, Pistol Grip, Communicating & charging cradle
Weight:
1.5kg
Robust Compact/Connected Android Based Handheld
:
This feature-rich reader is packaged in a compact ergonomic footprint, yet comes with a full QWERTY keyboard for onthe-go data-entry and while displaying results on the large 4" WVGA crisp touch panel display.
The solution provides an easy-to-integrate, easy-to-manage package in an open source Android environment.
A number of techniques including shock-resistance rubber seals are used to ensure durability resulting in an IP64 water/ dust proof rating and a 1.0m/ 3ft drop qualification.
High Performance Antenna:
The ALR-H450 delivers exceptional performance with best-inclass receive sensitivity and enhanced interference rejection enabled partly be an unusually high performance 4dBic antenna
.
Main features of Alien ALR-H450 Handheld UHF RFID reader:
QWERTY keyboard, rugged yet lightweight for ease of use

Ergonomic design provides superior user comfort and use

"Connected" via the full set of wireless networking

IP64 sealing for dust and water resistance

Prolonged usage capabilities provided by a 3,200 mAh main lithium polymer main battery pack and 5,200 mAh gun handle battery

Android 4.4 (Kit Kat)