Zebra DS8178 - 1D / 2D scanner, wireless, for healtcare, USB KIT
Premium handheld scanner DS8178-HC is purpose-built for healthcare environments, with unparalleled performance on virtually every barcode in any condition, a first-of-its-kind housing delivering maximum protection against the spread of bacteria. Streamline workflows for your healthcare professional and deliver better patient experiences.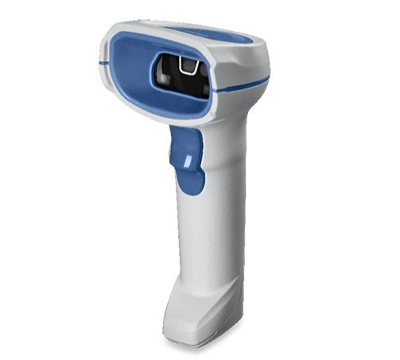 Zebra DS8178 - 1D / 2D scanner, wireless, for healtcare, USB KIT

ARTICLE No.:
ZEB-DS8178-USB
Availability:
Usually 7 days
Warranty (months): 36
633,-
exclude VAT
766,- incl. VAT
Package content:
Scanner, USB cable, Communicating & charging cradle
Weight:
0.24kg
The DS8100-HC Series combines the power of an 800 MHz microprocessor, a high-resolution megapixel sensor and Zebra's exclusive PRZM technology.
T
he scanner instantly captures the most problematic barcodes found in pharmacies, labs and at the point-of-care — including dense, tiny, curved, poorly printed, shiny, crinkled, faded, distorted, dirty or damaged, as well as electronic barcodes on dimly lit displays.
Only the DS8100-HC offers a purpose-built housing specially designed to help prevent the spread of bacteria. Special plastics allow for Safe wipe-downs with the widest selection of the harshest and most aggressive disinfectants used in today's hospitals. And concealed screw holes and seams eliminate areas where bacteria could hide — even after a wipedown.
Choose from a wide array of easily controllable feedback modes designed for virtually any hospital environment. In addition to the standard LED, vibrate and beeper feedback, Zebra's Direct Decode Indicator flashes illumination onto the barcode to confirm that it has been captured. With Night Mode, healthcare workers can switch between vibrate and beeper feedback by simply depressing the trigger for a few seconds.
top performance in scanning barcodes

flexible user-selectable feedback

including Night Mode with vibrate

The PowerPrecision battery can capture over 75,000 barcodes in a single charge

Wi-Fi Friendly Mode prevents any unwanted interference with your existing Wi-Fi network

123Scan2, Scanner Management Service (SMS), and SDK Scanner utilities