Homepage

CipherLab CPT-8600L Mobile Terminal, laser, WLAN, 8MB, 29 keys, USB
The 8600 series mobile computer is a pioneer product of new generation. It is a combination of functionality, ruggedness, and mobility rolled all into one efficient device. The new 8600 has a color display that defines background and text with various colors to improve readability and support rich data management tasks. It runs on CipherLab OS to reduce redundancy in programs and applications for users.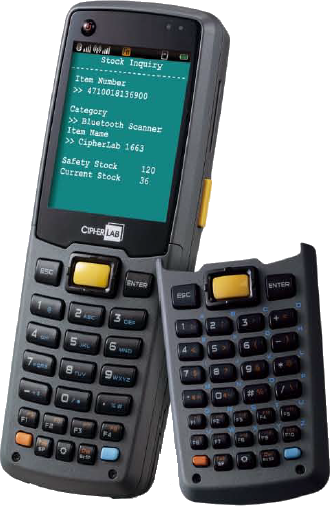 CipherLab CPT-8600L Mobile Terminal, laser, WLAN, 8MB, 29 keys, USB

ARTICLE No.:
A8630-L-08M29K
Availability:
Usually 25 days
Warranty (months): 12
679,4
exclude VAT
822,- incl. VAT
Package content:
Terminal, Battery, Power supply, Communication & charging cable
Weight:
0.3kg
The modular charging / communication system and swappable keypad gives user flexible configuration into his hands. The 8600 series mobile computer is specifically designed with top durability in mind. Being compact and ergonomic, it's extremely rugged with IP65 standard which is capable of enduring exposure to dust, dirt and water jets. The protection features make the 8600 series one of the toughest of its kind in the market. The 8600 series' rugged features also have the optional hard shell that gives extra protection and ease of grip. The LCD display is covered by a polycarbonate panel protector for extra protection from hits and accidents.
The 8600 series is purposely designed with ergonomics and lightweight to provide more flexible mobility for its users. Weighing only approximately 240 grams, it allows for comfortable operation all-day with maximum mobility. It also has an optional pistol-grip that the users can employ for easier operation of intensive scanning to improves productivity.
The 8600 series also comes with GPS as an option which is unique among other products of its kind. When it is required, this GPS feature can be engaged to improve accuracy of outdoor asset management and give field workers the ability to provide more complete information for management anywhere.
The most significant features of CipherLab CPT-8600 mobile terminal
color LCD display with polycarbonate panel protector;

swappable keyboard;

optional RFID reader;

optional GPS module;

optiona

l

handl

e;

modular design of the accessories;

wireless capabilities of Bluetooth 4.0 and 802.11 b/g/n at 8630 and 8660 models;

strong ruggedness and IP65 ingress protection.