CipherLab RS51: Rugged Smartphone, Android, long 2D, WiFi dual band, WPAN, WWAN - 4G/LTE, RFID, NFC, 5300 mAh, USB Kit
CipherLab's RS51 series inherited the advantages with enhanced functions to provide smarter and more efficient operation for business' every-day usage. The RS51 is an Android Enterprise Recommended (AER)* device - i.e. the user is guaranted to have support for multiple future versions of the Android OS. Along with strong mobility options such as Wi-Fi and 4G/LTE, its enterprise functionality is protected by advanced rugged designs.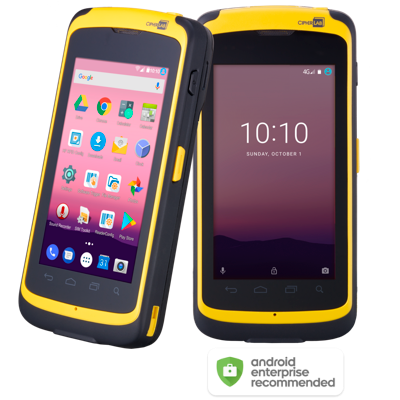 CipherLab RS51: Rugged Smartphone, Android, long 2D, WiFi dual band, WPAN, WWAN - 4G/LTE, RFID, NFC, 5300 mAh, USB Kit

ARTICLE No.:
RS51-2DL-UHC
Availability:
2 pcs
Warranty (months): 12
29 839,-
exclude VAT
36 105,2 incl. VAT
Package content:
Terminal, Power supply, Interface and power USB cable, Battery
Weight:
0.5kg
CipherLab RS51's versatile data collection supports 1D and 2D
barcodes with comprehensive abilities to capture data in milliseconds, even if the barcode is in poor condition. The option of mid-range reader makes barcode capture in the warehouse
effortless. Additionally, proof of service and video recording are made easy with signature capture and the upgraded 13 MP camera. It has HF RFID capabilities and supports contactless NFC applications in three modes. RS51's versatile data collection easily
optimizes your operation.
Business and field workers can enjoy reliable cellular and Wi-Fi support. You never have to worry about facilitating large file transfers, video calls and remote access to backend systems with its 4G/LTE. Being connected to corporate system at all times allows you to acquire information, update backend system and receive notifications of information quickly. Supporting up to 2 SIM cards on 2 different networks, enables your workers who cover large areas in different countries to have constant connectivity. Also, a
comprehensive GPS supports accurate positioning and reduces drive time. Voice capabilities, VoIP (Push-to-Talk) and VoLTE empower your field workers instant voice connection with staffs inside the office. The microphones with noise reduction and echo cancellation let users hear every word of every call in noisy environments or on the road in city traffic.
High security standards thanks to the Google certification
The CipherLab R
S51
is certified for Google's GMS and it has also
Android Enterprise Recommended (AER) certification
. This gives high safety standards to a user. The manufacturer also guarantees 90-day safety updates over the first five years after purchase.
On top of it all, CipherLab's RS51 mobile computer offers value-added utilities and software that empowers enterprises a solution to manage and simplify business operations and maintenance.
Key Features of the
Rugged
Smartphone CipherLab RS51
Full version of Android 8.0 with GMS

Fastest octa-core 1.8 GHz CPU

USB 2.0 OTG communication interface

Long battery life, up to 16 hours after charging

2 Dual SIM - 2 slots for 2 SIM cards + memory card slot

RFID and NFC reader as standard

4.7" capacitive touch display

IP67

Built-in multi-touch panel

Protective layer of display:

Dragontrail

TM

Glass

Battery backup with Hot swap

Lightweight 330 g

Camera 13 MPix

Wi-Fi and Bluetooth

2D Imager

Supported by the Sysdev KALIPSO Mobile Application Generator software development tool
CipherLab RS51 Series Rugged Android Touch Computer
Why is it necessary to make CipherLab RS51 so strong?