Homepage

Honeywell
The Dolphin 6510 mobile computer delivers advanced data capture and real-time wireless communication for retail, supply chain and light-industrial environments. Integrated 802.11 a/b/g/n wireless connectivity provides users with access to critical data throughout the enterprise, while Bluetooth® connectivity facilitates efficient wireless connection to peripheral devices. Advanced security protocols enhance data security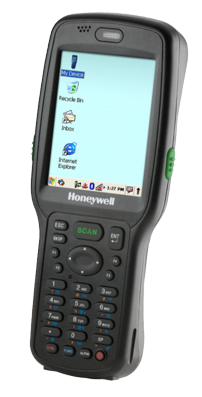 Honeywell

ARTICLE No.:
6510-WPAN2D28KL
Availability:
Product discontinued - can not be ordered
Warranty (months): 12
Product discontinued - can not be ordered
Package content:
Battery, Stylus, Hand strap, Power supply, Terminal
Weight:
0.35kg
Compared to the previous model
(
the Dolphin 6500) is the terminal Dolphin 6510 increased memory up to 512 MB RAM, more powerful 1 GHz processor and Windows CE 6.0
.
Shift-PLUS™ power management technology provides 10 or more hours of continuous use, minimizing the need to replace the battery during a single shift.
Powered by Adaptus™ 6.0 imaging technology, the Dolphin 6510 mobile computer delivers the broadest suite of advanced data capture capabilities, including 2D barcode scanning, digital image capture and intelligent signature capture, allowing users to increase efficiency and improve customer service.
Key features of the terminal Dolphin 6510:
Large color touchscreen display and multiple keypad options offer easy, flexible solutions to meet key- or graphics-based data entry requirements

Advanced integrated 802.11 a/b/g/n and Bluetooth technology deliver real-time network access to critical information and support advanced wireless security standards

. Class-leading 1 GHz microprocessor supports the Microsoft® Windows® CE 6.0 platfor

m. Powers scan-intensive, real-time wireless applications continuously for 10 hours or more, enhancing productivity while greatly extending useful battery life and reducing replacement cos

ts. Provides a productivityenhancing solution for applications that require high-volume scanning such as inventory management and stock repleni