CipherLab CPT-8300C Portable Terminal, CCD, 10 MB, 39 keys, without cradle
The CipherLab CPT-8300 series are rugged, versatile, high performance memory data terminals designed for all-day and everyday use. It is powered by a Li-ion rechargeable battery with working time longer than 100 hours. It is supported by a rich set of development tools, "C" and "Basic" compilers. With its integrated Laser/CCD barcode scanning unit, the 8300 series is ideal for batch applications such as inventory control, shop floor management, warehousing and distribution operations.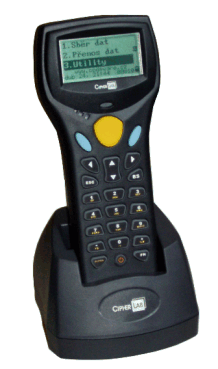 CipherLab CPT-8300C Portable Terminal, CCD, 10 MB, 39 keys, without cradle
ARTICLE No.:
A8300C-10M-39K
Availability:
Product discontinued - can not be ordered
Warranty (months): 12
Product discontinued - can not be ordered
Package content:
Terminal, Power supply, Battery
Weight:
0.7kg
Beside the standard application tools (the Application Generator, the Mobile-Sale, etc.), CODEWARE develops custom-made applications for all CipherLab brand terminals. Feel free to contact us for more information.
The communication cradle is offered in two models, with the plain-character transfer protocol, and the second model with abuilt-in modem protocol.
Operation battery 3.7V Li-ion rechargeable battery, 700mAH.
Backup battery 3.0V, 7mAH rechargeable Lithium battery for SRAM & calendar
Working time over 100 hours for 8300 (batch model); over 20 hours for 8310 (433MHz RF model) and 8 hours for 8350 (2.4GHz RF model)
Dimensions Batch model: 169mm (L) x 77mm (W) x 36mm (H) RF model: 194mm (L) x 77mm (W) x 44mm (H)
Weight Batch model: 230g (including battery) RF model: 250g (including batter
ABS CPU Toshiba 16-bit CMOS, tunable clock, up to
22MHz Program memory 1 M Bytes flash memory is used to store the program code, font, constant data, and
so on. Data memory Batch model (8300): 2M / 4M / 8M Bytes SRAM RF model (8310/8350): 256K By
tes SRAM 8300L / 8310L / 8350L (Laser) Light source: visible Laser diode operating at 670±15nm Scan rate: 36±3 scans per second Scan angle: 42°nominal Minimum print contrast: 20% absolute dark/light reflectance at 670nm Depth of field: 5 ~ 95 cm, depends on barco
de resolution 8300C / 8310C / 8350C (CCD) Resolution: 0.125mm ~ 1.00mm Depth of field: 2 ~ 20cm Width of field: 45mm ~ 124mm Scan rate: 100 scans/sec Ambient Light Rejection: 1200 lux (Direct Sun-light), 2500 lux (
Fluorescent Light) Display 128x64 graphic dots FSTN LCD display
with LED back-light Keypad 24 numeric or 39 alpha
numeric rubber keys. Indicator Buzzer: Software programmable audio indicator, 1KHz to 4KHz, low power transducer type. LED: Programmable, dual-color (green and red) LED
for status indication Communication RS-232: Baud rate up to 115200bps Serial IR: Baud rate up to 115200bps Standard IrDA: Baud rate up to 115200bps 433MHz RF: 9600bps data rate 2.
4GHz RF: 19200bps data rate Operating Sys
tem CipherLab proprietary OS Programming Tools "C" compiler, BASIC compiler and a Window
s-based Application Generator Accessories Charging / Communication Cradle, RS-232 cable, Keyboard Wedge cable, Power adapter, Li-ion rechargeable
, RF base station Environment Operating H
umidity non-condensed 10% to 90% Storage
Humidity non-condensed 5% to 95%
Operating Temperature -20 to 60 °C
Storage Temperature -30 to 70 °C EMC
regulation FCC, CE and C-tick, RoHS Sho