Homepage

CipherLab CPT-9670 Laser, 128M/1G, WinCE 6.0 Pro, BT, WLAN, VGA, 29 keys
Master your business details with this incredibly easy to use AIDC tool. The 9600 industrial mobile computer provides all the options you need to accomplish efficient, accurate data capture in the field or on the sales floor. Capture 1D or 2D codes with your choice of linear imager, 2D imager or laser scanner, and select either an LED-backlit keypad with 29 or 43 keys to best accommodate your work requirements. Final sale, only stock units can be ordered!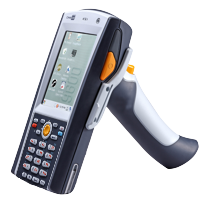 CipherLab CPT-9670 Laser, 128M/1G, WinCE 6.0 Pro, BT, WLAN, VGA, 29 keys

ARTICLE No.:
A9672-L-29K
Availability:
Product discontinued - can not be ordered
Warranty (months): 12
Product discontinued - can not be ordered
Weight:
kg
PDA 9600 runs Windows CE 6 with API which allowing programmers to write applications in popular Windows CE environment. PDA9600 includes communication interfaces such as Bluetooth Class 2 (which is standard for device) or optional GSM/GPRS, WiFi 802.11b/g or b and GPS. There is microSD slot for memory cards to extend base memory.
backlit keys Network: WiFi 802.11b/g WPAN Bluetooth Class 2 GSM/GPRS/EDGE Quad-band GPS Barcode & RFID: 1D a 2D (Laser Scanner, Linear Imager, 2D Imager) RFID 13,56 MHz Camera: 2Mpix CMOS with LED flash Operating parameters: Operating Temperature: -10°C ~ 50°C (14?~122?) Operating Humidity: 5% ~ 95% non-condensing Electrostatical Discharge: ±15 kV air discharge, ±8 kV direct discharge Size L x W x H 170 × 90 × 38 mm Weight 400 g