CipherLab CPT-8570XL Portable Terminal, XL Laser, 6MB, 24 keys
The portable logistic terminal CipherLab CPT-8500 is rugged device designed for all-day work in harsh environment like manufacture, warehouse or open field are. Already from basic set it is occupied with 32-bits processor, backlighted large touchscreen, with wireless Bluetooth BNEP standard communication (i.e. TCP/IP unit addressability), 2 MB data memory and with barcode scanner.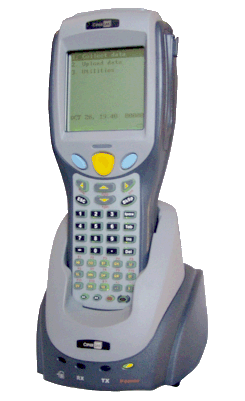 CipherLab CPT-8570XL Portable Terminal, XL Laser, 6MB, 24 keys

ARTICLE No.:
A8570-XL-06M24K
Availability:
Product discontinued - can not be ordered
Warranty (months): 6
Product discontinued - can not be ordered
Package content:
Terminal, Battery, Power supply, Stylus, CD-ROM
Weight:
0.9kg
Cipherlab CPT-
8500 can be
o
ptionally ordered with RFID reader, wireless LAN 802.11b compatible communication or with GSM/GPRS internal module (both wireless modules are possible in one device), and with pistol grip for easier use. Data memory can be expanded up to 10 MB. Dust- and water-proof index IP64 guarantees functionality for outdoor use. Like all CipherLab terminals it is setupable with flexible Application Generator, programmable with Cipher-Basic or Cipher-C compilers, and rich with bundled cost-free software.
a long range imager / a laser / a 2D and a RFID reader;

a large touch screen display with backlight;

a DNS unit addressability and a TCP/IP standard protocol in the basic set with a Bluetooth communication;

long uptime;

up to 10MB memory and a fast 32-bit CPU;

ergonomic design with a pistol grip;

IP64, withstands multiply 1.8 m drops onto concrete;

software flexibility. Free Application Generator if used for off-line data capture. The VT100/220 & IMB5250 Terminal Emulator for different wireless applications. The Cipher-Basic and the Cipher-C compilers for more sopfisticated applications.;

programmable vibration feedback signalization of different events (data sent, data accepted, good read, etc.).
The easy localization of the Application Generator - the main developing & debugging tool - is important especially in the non-english speaking countries. A brief list of software tools for the CPT-8500 Batch/Bluetooth/WLAN terminal:
Aplication Generator

, a basic set that comes with the terminal. In the package you will find a programming tool, runtime modules, user guides, communication tools and international character fonts for the device.

Terminal Emulato

r - an aplication, which after download turns the CPT into a standard Telnet accessible terminal client. There are two kinds of emulators available, VT-100 / VT-200 emulator or IBM-5250 emulator;

CipherLab-Basic Trial

, a demoversion of the main developmental tool for any CipherLab terminal.

CipherLab-C, a developmental tool for any CipherLab terminal. It uses the ANSI-C syntax and the MS-DOS environment.
The logistic industrial terminals CPT-85x0 are manufactured in the variants:
with a built-in long depth reading range barcode CCD scanner, with a built-in laser barcode scanner, with a 2D barcode imager, with a HF RFID tags reader;

24 keys or 44 keys;

with different wireless modules, 3 kinds are available: BlueTooth Class 2, WLAN 802.11b and GSM/GPRS;

with data memory sizes of 2MB, 4MB, 6MB and 10MB;
The logistic terminal CPT-8500 is the first one from the CipherLab production which has features like a touch screen or a pistol grip. There is a wide assortment of optional accessories. For example a communication+recharging cradle (see on picture), a 4-accumulator charger, a protective leather holster with a belt clip, and many more.