Honeywell MK-9535 Bluetooth with Memory
Wireless laser scanner, Bluetooth technology, signal range 10 meters. Include communication+recharging cradle.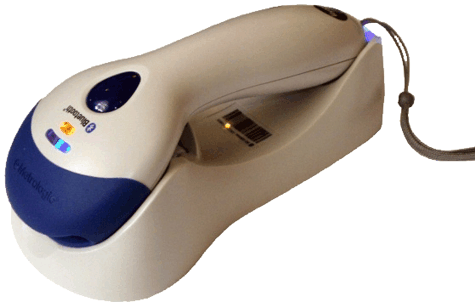 Honeywell MK-9535 Bluetooth with Memory

ARTICLE No.:
_old_MK9535-39C547_old
Availability:
Product discontinued - can not be ordered
Warranty (months): 6
Product discontinued - can not be ordered
Weight:
2.5kg
The wireless barcode scanner MK-9535 Voyager Bluetooth offers convenience and freedom of mobility by incorporating the Bluetooth technology. As well as the other members of the Voyager Series, it continues in the trend of combining high performance, patented technology, and a futuristic design. VoyagerBT provides a lightweight, comfortable, and easy to use scanning solution. The patented CodeGate feature remains at the core of the scanner\'s functionality. The scanner wakes with a touch of the CodeGate button activating the IR sensor. After scanning a bar code, simply press the CodeGate button and the data is wirelessly transmitted to the host system. The operators will find the brightly-lit laser easy to see and line up on a desired barcode making the VoyagerBT perfect for menu scanning applications.
Scanning large or heavy products can be done quickly and easily. The VoyagerBT offers the check-out personnel the ability to scan bulky items without the need for unnecessary heavy lifting by the customers or the check out personnel. The VoyagerBT includes the ability to decode Reduced Space Symbology (RSS) barcodes. The VoyagerBT can be used in applications including supermarkets, hypermarkets, warehouse shopping clubs, retailers, light warehouse and manufacturing.
Take a tour and investigate the product from all angl
es
4842 Lux Radio Range 10 meters Shock Resistance withstands drop from 1.5 m Mechanical Features Length scanner: 198 mm, base: 204 mm Handle Width scanner: 45 mm, base: 107 mm Head Width scanner: 78 mm Heigh scanner: 40 mm, base: 61 mm Weigth 200g include battery Cable Length 2.1 m Electrical Features, Agency Listings Input Voltage scanner: 3.7 VDC ±0.25V; base: 5 VDC ±0.25V Operating Power scanner: 1.1 W; base: 500 mW Stanby Power scanner: 140 mW Battery Capacity / Recharge Time 14000 scans / 2.5 hours Laser Class CDRH-Class II; IEC 60825-1:1993+A1:1997+A2:2001 EMC FCC, ICES-003 & EN55022 Class B