Zebra CardStudio Professional
Simple and easy-to use software for card design and print for all current Zebra card printers. You can create simple or complex designs. It communicate in 12 different languages, including English and Czech.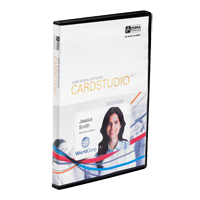 Zebra CardStudio Professional

ARTICLE No.:
ZEB-CS-PRO
Availability:
Usually 7 days
783,4
exclude VAT
947,9 incl. VAT
Weight:
0.5kg
Professional version can operate with dual-sided cards, full colour design, 1D and 2D codes, magnetic encoding, biometric management, Excel and CSV database import, database connectivity Access and ODBC. Network printing support is automatically supported in this product.
It is ideal to use for ID cards, Access control cards, retail and loyalty cards, club cards and school cards