TSC DA300 Desktop Direct Thermal Bar Code Printer, 4 ips, 300 dpi, USB
Desktop Barcode Printer DA200 / DA300 from TSC has all the good qualities sought customers for small printers. It's lightweight, easy to carry, takes up little space, quiet and easy to operate. Yet delivers the performance expected by the middle class Label Printer: big memory for handling complex formats and high printing speed. In short, these printers are ideal combination of established quality, performance and affordability.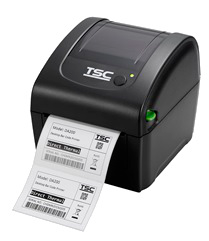 TSC DA300 Desktop Direct Thermal Bar Code Printer, 4 ips, 300 dpi, USB

ARTICLE No.:
TSC-DA300
Availability:
1 pcs
Warranty (months): 24
8 694,-
exclude VAT
10 519,7 incl. VAT
Package content:
Printer, Power supply, CD-ROM, Printed Quick Guide
Weight:
2.7kg
Printer TSC DA200 / DA300 redefines value-frills desktop printers labels. Although the cost of the printer itself is low, it looks like and has better performance than expensive competitor models.
Printer DA200 / DA300 can print on various types of labels - labels ranging from shipping through the usual stickers for labeling and identification of goods to to labels and tickets. Labels may not always be paper. In factories of industrial enterprises, for recording automobile parts, etc..,
a
re frequently used labels from polyethylene, datapol, possibly from other materials. Characterized by easy media loading.
TSC printers have the Thermal Smart Control technology, a patented electronic print head temperature control. Print output is sharper because of that technology and, what's even more important, printhead life is several times longer.
Main features of the printer DA200 / DA300:
easy media loading

High memory - 64 MBSDRAM, 128 MB Flash

small size

print speed of up to 127 mm / sec

USB 2.0, RS-232, Ethernet

32-bit RISC processor

print resolution up to 300 DPI

Smart Thermal Control technology significantly extends printhead life and ensures sharper print outpu