Birch BM-iC3 Mobile POS printer
Portable, wireless receipt printer and barcode, very small dimensions at a very affordable price, it is Birch BM-iC3. With its compact size, flexible connectivity and simple operation you can have it always with you, as you and customers will appreciate.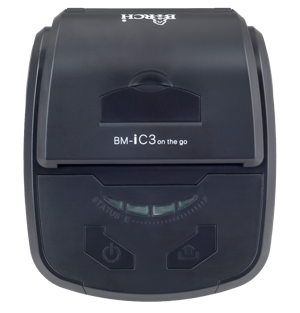 Birch BM-iC3 Mobile POS printer

ARTICLE No.:
BI-BM-iC3
Availability:
19 pcs
Warranty (months): 12
1 996,-
exclude VAT
2 415,2 incl. VAT
Package content:
CD-ROM, Battery, Power supply, USB interface cable, Printer, Protective cover
Weight:
0.785kg
The company offers Birch practical receipt printer very small dimensions and low weight but high battery life per charge battery. On one charge the 8-15hours shift operating at full capacity, or 7 days in stand-by mode. Particularly suited to the hospitality, kiosk sales apod..Broad range of applications, since it is possible to connect the printer via USB or Bluetooth. Carrying case in the basic price of the printer.
Key features of the printer:
low weight and small dimensions

communication interfaces: USB, Bluetooth

large 2000mAh battery life up to 8-15 hours in full operation on a single charge

resistant protective packaging in price

very good price

Supported operating systems: Android, Windows, Linux, iOS

supported applications PEXESO , eÚčtenka , TEETA, Profiúčtenka, mKasa (Pohoda)