TSC TTP-247 Desktop Barcode Printer, 203 dpi, 7 ips, USB+LPT+RS232
Based on the design of its best-selling predecessor, the TTP-245 Plus, the TTP-247 runs at an impressive 7 inches per second, printing up to 4 inches wide at 203 dpi resolution. A second model in the series – the TTP-345 – offers high resolution 300 dpi printing at 5 inches per second. Both models offer 8 MB of SDRAM and 4 MB of onboard Flash memory. Gigabytes of Flash memory can be added via an onboard SDHC card reader.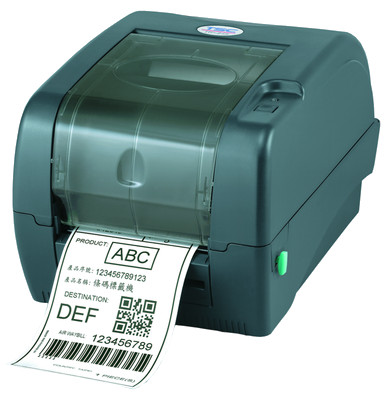 TSC TTP-247 Desktop Barcode Printer, 203 dpi, 7 ips, USB+LPT+RS232

ARTICLE No.:
TSC-TTP-247
Availability:
Usually 20 days
Warranty (months): 24
8 299,-
exclude VAT
10 041,8 incl. VAT
Package content:
Printer, USB interface cable, Power supply, CD-ROM
Weight:
5.5kg
Like its predecessor, the TTP-247 series features a user-friendly clamshell design for easy drop-in media loading, along with a rugged double-wall design that is stronger and more durable than other thermal transfer mechanisms on the market. Its innovative two-motor gear-driven engine is powerful enough to handle a 300-meter-long ribbon and label rolls up to 8.4 inches in diameter
when used external unwinder
.
By using two motors instead of the usual one, TTP-247 series printers operate at lower torque, reducing noise, decreasing wear and tear, and extending printer life. The platform's user-friendly design makes it easy for operators to load and unload ribbons, and its 300-meter capacity is more than four times the industry-standard length for desktop printers.
TSC printers have the Thermal Smart Control technology, a patented electronic print head temperature control. Print output is sharper because of that technology and, what's even more important, printhead life is several times longer.
Key Features of TSC TTP-247 Bar Code Printer
:
Up to 177.8 mm (7") per sec. print speed

4 MB Flash memory and 8 MB SDRAM memory

SD Flash memory expansion up to 4 GB

User-friendly clamshell design

Label gap sensor & full-range adjustable black mark sensor

Parallel, serial & USB 2.0 interfaces

Main board integrated with internal Ethernet (factory option)

Label capacity up to 214 mm OD (8.4" OD)

Ribbon capacity up to 300 m (984')

TSPL-EZ™ firmware for plug-n-play ease

Optional peel-off module, cutter module, stand-alone keyboard and scanner

Smart Thermal Control technology significantly extends printhead life and ensures sharper print output