Homepage

CipherLab RS30: Enterprise Smartphone, Laser, Android, white, USB kit
CipherLab RS30 is a touchscreen, mobile, robust and very durable smartphone with dual SIM card, built-in NFC and RFID reader, barcode scanner and a 8 megapixel camera. Its solid protection ensures worry-free applications in the field. The 4.7-inch touch screen along with Android 4.4 operating system provides to the user interface as similar and familiar as any personal smartphone. Armed with ruggedness, the RS30 provides extra protection to enhance ruggedness with a protective boot. Equipped with versatile reader options, near field communication and other functions, the RS30 offers a rugged and intelligent solution to meet mobile workers' needs.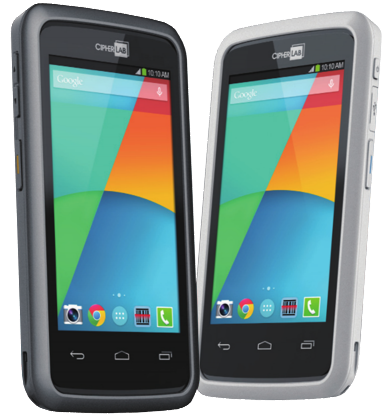 CipherLab RS30: Enterprise Smartphone, Laser, Android, white, USB kit

ARTICLE No.:
RS30-L-W
Availability:
Product discontinued - can not be ordered
Warranty (months): 12
Product discontinued - can not be ordered
Package content:
Terminal, CD-ROM, Power supply, Interface and power USB cable, Battery, Hand strap, Printed Quick Guide
Weight:
0.4kg
The RS30 series touch mobile computer is a touch-centric smartphone
with built-in multi-touch panel operating on the Android operating system. This ensures minimal training for the users because the user experience would be as similar as a personal smartphone. Its high sensible touch panel supports users' touch from bare fingertips to latex gloves. The RS30 series also includes a large 4.7" display which supports more viewable data to speed up information checking and responses to customer requests. The RS30 series weighs in at only 250 grams so there are no burdens on users mobility.
Android OS

Long battery life

2 Dual SIM

built-in NFC and

RFID reader as standard

Touch, transmissive display 4.7 "

IP54

built-in multi-touch panel

protective layer display: Corning Gorilla Glass 3

battery backup with Hot swap

Low weight 260 g

8 megapixel camera

Wi-Fi and Bluetooth

supported by

development software tool Sysdev KALIPSO Mobile Application Generator