Homepage

Seagull BarTender Starter: multiuser Application license + License for 3 printers (includes 1 year Maintenance)
Software for design and print of labels, bar codes, cards and RFID tags. It supports over 20 languages. Bartender is ideal product for labeling or printing on demand, including label design, print and application of direct marking on packages, coding of chip cards and many more. It is available in 4 versions. All of the editions are available as 64-bit applications as well as 32-bit applications for Microsoft Windows.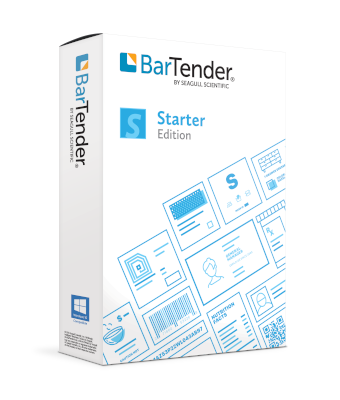 Seagull BarTender Starter: multiuser Application license + License for 3 printers (includes 1 year Maintenance)

ARTICLE No.:
SEA-BTS-3
Availability:
Usually 2 days
Warranty (months): 12
15 650,-
exclude VAT
18 936,5 incl. VAT
Weight:
kg
For different types of use are manufactured more different versions
. All of the editions are for multiuser usage
:
BarTender Starter - maximal number of the printers is limited up to 3. The data of the label can be sourced from text or Excel file. RFID isn¤t supported

BarTender Professional - the number of the printers is limited by the purchased license. All of the standard functionality inclure RFID

BarTender Automation

BarTender Enterprise
All of the full versions (i.e. exclude the licenses for additional printers, updates or upgrades)
include the one-year support - Maintenance.
If you have any questions about previous versions of Bartender Professional and have access to the new version, please contact us
.