TSC TTP-2410MT Metal Industrial 203 dpi, DT/TT, touch LCD, up to 14 ips
TSC's TTP-2410MT die-cast aluminum label printer is designed to meet the most demanding bar-coding and identification requirements, offering more standard features than any comparable printer – without breaking your budget. The TTP-2410M boasts a print speed up to 14 ips ( 356 mm/sec) – the fastest in the TSC product lineup – and the fastest throughput of any printer in its class. With its combination of speed and durability, the TTP-2410MT is ideal for mission-critical printing applications – either on-demand or batch.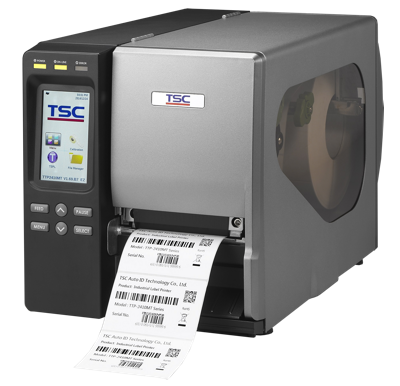 TSC TTP-2410MT Metal Industrial 203 dpi, DT/TT, touch LCD, up to 14 ips

ARTICLE No.:
TSC-TTP-2410MT
Availability:
Product discontinued - can not be ordered
Warranty (months): 24
Product discontinued - can not be ordered
Package content:
CD-ROM, Printer, Printed Quick Guide
Weight:
17.1kg
TTP-2410M standard features include internal Ethernet, USB 2.0 and PS/2 keyboard connectivity,
128
MB SDRAM, 128 MB Flash memory, and an SD memory-card slot for inexpensively adding up to 32 GB of additional Flash storage. The TTP-2410M supports up to a 600-meter-long ribbon, along with a full 8.2-inch OD media roll. An optional peel-off kit includes an internal rewinder and a label peel-and-present sensor. The unit comes with a 2-year limited warranty.
The TTP-2410M series is available in a 300-dpi model (TTP-346M), which operates at speeds up to
1
0 ips and can be ordered either from the factory or as a field upgrade. An upgrade kit, which includes a printhead and firmware, takes 30 minutes to install. Also available as a factory option is a 600 dpi model (TTP-644M), which operates at speeds up to 4 ips. Both the TTP-346M and TTP-644M offer 128 MB SDRAM, 128 MB Flash memory and an SD card slot for expanded memory.
Barcode printer TSC TTP-series 2410MT / MU have TSPL-EZ firmware, which is simple to setup and control. TSPL-EZ can automatically use emulation TPLZ (Translation Printer Language Zebra®) or TPLE (Translation Printer Language Eltron®) without the need to manually setting the correct command language. Do printers simply can send labels formats in both the language Zebra and Eltron language, the book is automatically detects and correctly printed. Firmware TSPL-EZ also includes internal scalable TrueType fonts and language BASIC interpreter with file manager, which allows a very powerful way to connect the printer to different systems.
TSC printers have the Thermal Smart Control technology, a patented electronic print head temperature control. Print output is sharper because of that technology and, what's even more important, printhead life is several times longer.
TSC TTP-2410MT Industrial Bar Code Printer Key Features:
Heavy duty die-cast aluminum design

300 dpi & 600 dpi resolution options

600 meter ribbon supply

128 MB Flash and 128 MB SDRAM memory

SD Flash memory expansion up to 32 GB

Up to 356 mm (14") per sec. print speed

32 bit RISC processor

Internal Ethernet standard

Smart Thermal Control technology significantly extends printhead life and ensures sharper print output

powerful TSPL-EZ firmware enables automatic detection of printer language ZPL (Zebra) and EPL (Eltron)

large LCD display with six control buttons

"Thermal Smart Control"™ print technology produces cleanest, high quality barcodes
Product summary video: VIDEO
='DMS
:2866'